MagnaPanel provides a flexible, cost effective, and convenient solution for creating magnetically attached access panels.
Now access to mechanical components, wiring, and plumbing fixtures can be provided with ease, while seamlessly blending almost any size of access panel with surrounding finishes.
Because MagnaPanel uses high-strength magnets that are much stronger than standard cabinet magnets, you are assured of a solid, reliable panel fit for many years without having to resort to caulking or other sealants or fasteners to hold access panels in place.
A typical installation can be completed within ten minutes.
The MagnaPanel hardware system was invented in 1997 by a professional tile setter and designed to simplify the installation of access panels using a method that is flexible, yet saves contractors valuable time.
Other kits to be released in the future will accommodate panel installations in metal framed structures and frequently used access panels.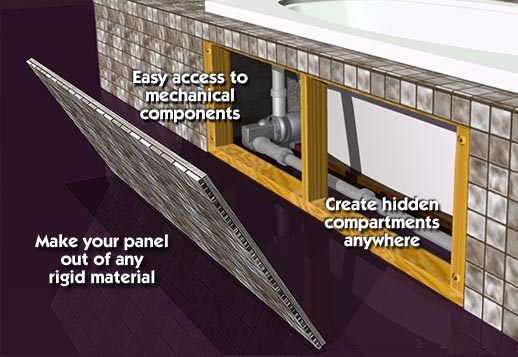 Make flush-mounted magnetic access panels any size you want!
Typical installations utilize cement backer board with tile, plywood panels, solid surface panels, masonry, and more.
Applications are endless — limited only by your imagination!
Applications include whirlpool tubs, hot tubs, spas, secret compartments to hide valuables and firearms, entertainment centers, electrical and mechanical component access, and access to plumbing.